Many times celebrities get caught in situations that they would never have imagined, after getting glimpses of their favorite stars at a particular place or occasion, fans are often eager to see them, shake hands with them and take their autographs. Go. The same thing happened recently with Deepika Padukone. Fans surrounded them in Mumbai.
Deepika Padukone is shooting for the film 'Pathan' these days. Because of this, she has been getting frequent spots in Mumbai for the last few days. Recently, after the shoot of the film, Deepika reached for dinner in a restaurant. When Deepika came out of the restaurant after dinner, her fans surrounded her. The paparajis present there also started taking their pictures and videos.
Fan pulled bag and tried to stop
Meanwhile, something happened to Deepika, whose reaction, she did not understand. Actually, when Deepika Padukone came out of the restaurant after dinner, she was surrounded by paparazzi and her fans. However, his bodyguards were bringing people towards the car while avoiding them. Meanwhile, one of the crowd of people present there tried to stop him by pulling the bag of Deepika Padukone.
Deepika came out with calm and smile
Deepika Padukone had her right hand hanging on the shoulder, but while descending the stairs, the bag slipped from her shoulder and hung in her elbow, after which a fan tried to stop her. During this, Deepika kept herself quite calm and did not give any reaction. She sat in the car with a light smile and left from there.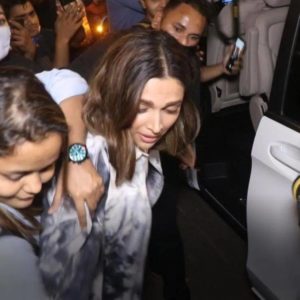 Watch viral video here
read this also-
Aishwarya Rai Bachchan did a tremendous dance on Priyanka Chopra's song at the wedding of the cousin, watch the video here
In case of Corona, Bachchan Family, Aishwarya-Abhishek and Amitabh Bachchan started shooting for films